Happy Wednesday! =)
It's that time again! Here is one day's worth of workout-day eats from last week:
Salad with Ranch and sweet tomatoes...
Scrambled eggs, bell peppers, and mozzarella cheese...
New creamer! It's delicious =D
Sweet taters :D (450 calories worth!)
Waffle with Walden Farms syrup & natural PB
This is a recycled picture! My camera bit the dust halfway through an upload =( But I promise it looked just like this!
Egg whites with cheese and ketchup, 8 ounces of chicken & bell peppers
6 MORE ounces of chicken with bell peppers, BBQ sauce and a salad in the background (yes, 14 ounces of chicken breast in one day! What can I say? It's a super cheap source of protein!)
That is.....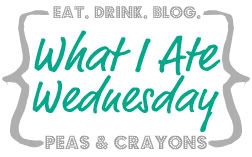 (Bear in mind that I'm cutting, this is just what works for me & my body, etc.)
Now time for what I worked! :) This workout, like all others, is courtesy of Jay Ashman.
Barbell squat:
170x4 (~2 reps in the tank)
160x4 (~1 rep in the tank)
160x4 (~2 reps in the tank)
Barbell lunges:
90x6 (1 rep in the tank)
80x6 (not enough rest between sets!)
80x6 (1 rep in the tank)
Stiff-legged deadlift:
155x6 (1 rep in the tank)
150x6 (not enough rest between sets)
150x6 (1 rep in the tank)
Hanging leg raises
3x12, body weight
HIIT:
Stationary bike, 30 secs "on" (resistance 20, about 70rpm), 30 secs recovery (resistance 7) for 10 minutes. (Aside: Two years ago I could barely manage 30 seconds at 7.)
Happy Wednesday! We're half-way to the weekend, people! Hang in there! ;-)